Post-Bac undergraduate
Bachelor in Business Administration - HEC Montréal
Double Degree Bachelor in Business Administration - Hult International Business School (Boston or London)
Double Degree Program with Emporia State University
Licence in Computer Science
Post-Bac PRE-ENGINEERING
Pre-Engineering
The main objective of MedTech's 2-YEAR Pre-Engineering program is to provide introductory knowledge of applied physics, mathematics, programming, and engineering to future engineering students
Enginner Manager
3+2 with HEC Montreal
ENGINEERING
Engineering Computer Systems Engineering SoftwareEngineering Renewable Energy
4+2 MSc Opportunity with University of Michigan-Dearborn
4+2 MSc Opportunity with Oakland University (USA)
GRADUATE


PROGRAMS
Master in Business ManagementFinance TrackMarketing TrackSupply Chain TrackBusiness Analytics Track
Master in Blockchain & Artificial Intelligence
Master in Software Engineering
Master in Energy Management & Sustainability
Double Degree Programs
1+1 Double Master degree in Business Management – EADA Spain
1+1 Double Master degree in Marketing Management – ESIC Spain
1+1 Double Degree with HEC Montreal (D.E.S.S) from HEC Montreal and a Master in Business Management from MSB
Quality
Education
The strategic location of Tunisia in the heart of the Mediterranean combined with the diversity of its cultural heritage constitutes major assets for the development of a regional hub of educational excellence. It is in this framework that we have developed the South Mediterranean University (SMU).
Our mission at SMU is to train leaders capable of operating in a knowledge-based world economic order. To this end, the Mediterranean School of Business at SMU has set among its priorities the development of world-class educational programs. The quality of our faculty and our facilities, the adaptability of our programs to the needs of employers, and the dedication of our staff will make your SMU experience a wise investment.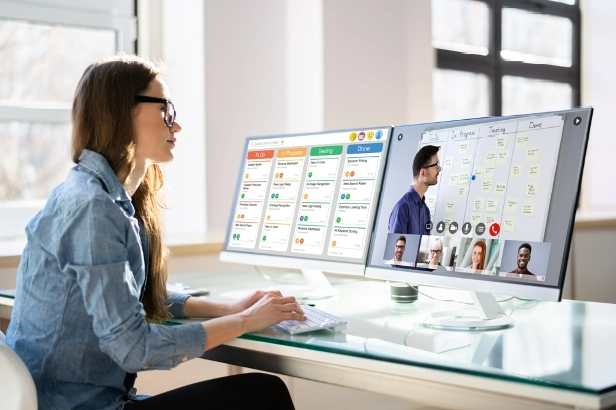 Highly
Qualified

Professors

Experienced faculty, all holding PhDs from prestigious universities.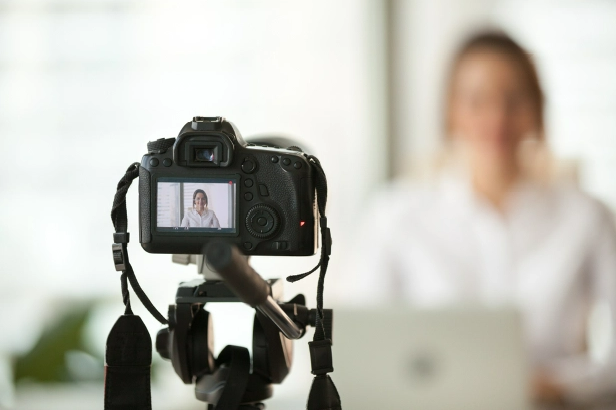 Modern

Teaching Methods

To improve the student experience, MedTech & MSB provide state-of-the-art information technology, tools, and resources suited for both blended and hybrid learning.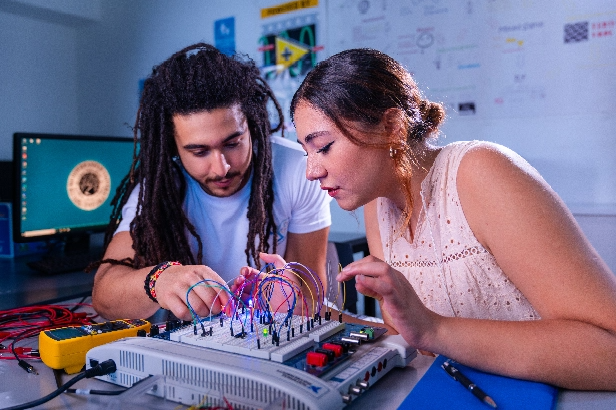 State of the
Art Facilities & Laboratories
Laboratories in major scientific fields (Renewable Energy, Computer Science, Electronics, Physics, Chemistry).
A well-equipped maker space dedicated to students to elaborate their projects.
ACCREDITATION
MEMBERSHIP
A Life
changing

Journey

SMU favors students' personal development, with available personal advisors and active pedagogy putting the student at the center of their learning journey.

Either choosing to be entrepreneurs, engineers or pursuing further education in an international academic institution or joining the job market, thanks to the school's academic and corporate global network, and new incubator, SMU graduates enjoy a high success rate in these different paths.
89%
EMPLOYABILITY RATE
90%
PHD Holding Faculty
#1
Business School in Tunisia*
*Entreprises Magasine 2021 & 2022
Opportunities

For Global Exposure

Our mission is to provide our students and faculty with a variety of unique opportunities to experience higher education through either exchange, faculty mobility, degree transfers, or double degree programs.

We strategically seek out top-quality partners from all corners of the world in order to ensure diversity in our partners while guaranteeing an equivalent level of education.
Academic Support &
Resources
SMU favors students' personal development, with available personal advisors and active pedagogy putting the student at the center of their learning journey. The Advising & Counceling Center has been created to help students keep a healthy state of mind and help them in finding proper on-and-off-campus resources. SMU Career & Alumni Center aims to bridge the gap between professional life needs and our educational system to provide our students with the right skills and knowledge so that they succeed in their professional lives.
Student Affairs
Student Life
SMU Career Center
SMU Incubator
SMU ACC
SMU Foundation
SMU Research center
SMU Library
International Programs
LCI
Life on
Campus
AN EXCITING STUDENT LIFEFor broader horizons and for a learning experience that does not stop at the doorsteps of the classrooms, the campus features many clubs and associations that provide extracurricular and co-curricular opportunities for students, launching social projects, raising funds and donations for those in need or developing leadership skills and aiming for peace or wining competitions and bringing back trophies with SMU Sports Club. Our students are always learning, developing, and most importantly following their passions around and beyond campus.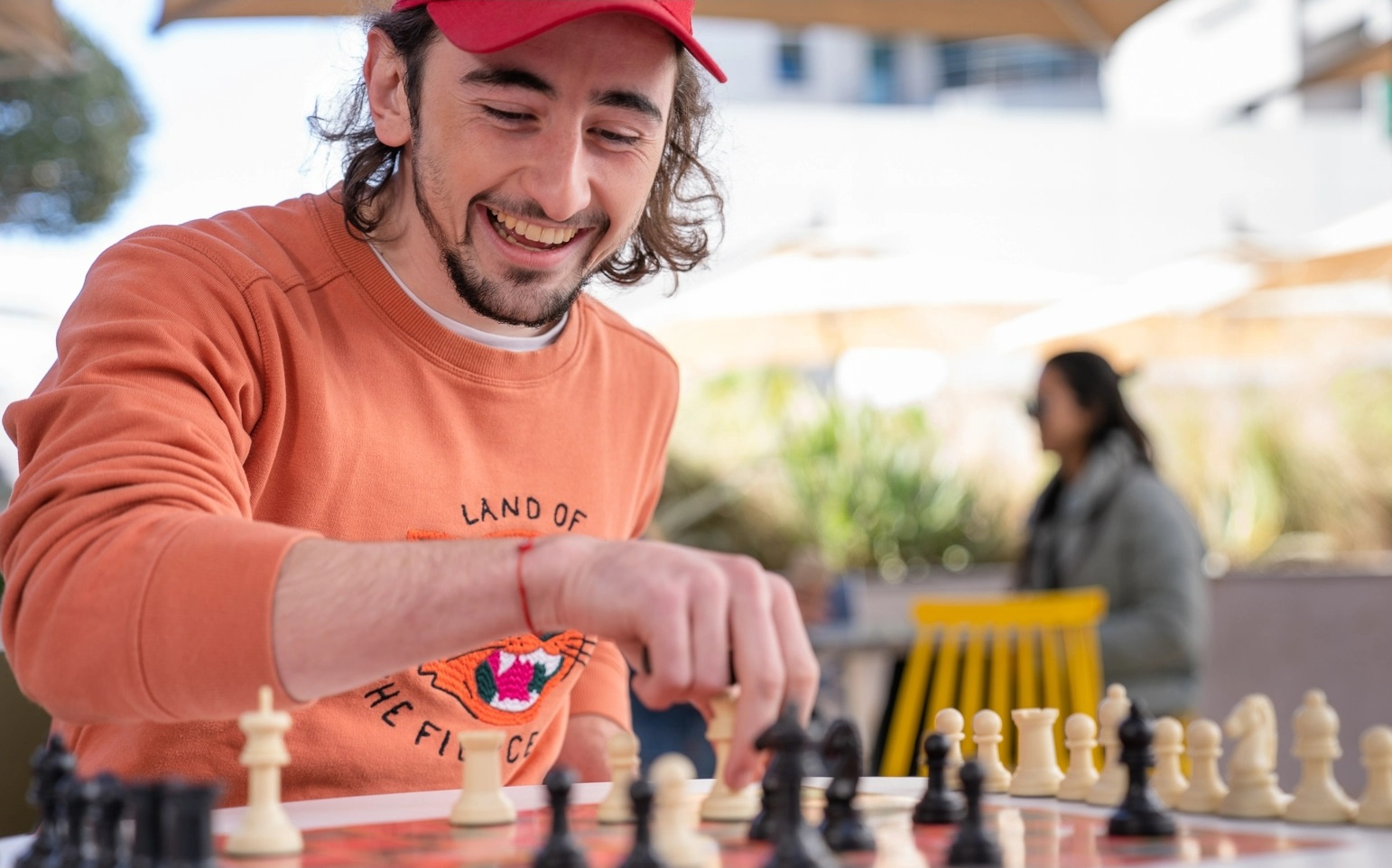 LIONS CLUB SMU
LIBERTAD SMU
MUSIC CLUB
jci
Hult prize
enactus smu
spark
dance club
microsoft club smu
ieee
genz
chess club
book club
timun smu
junior entreprise
green legacy
tuniversal
comedy zone
anime club smu
yummy club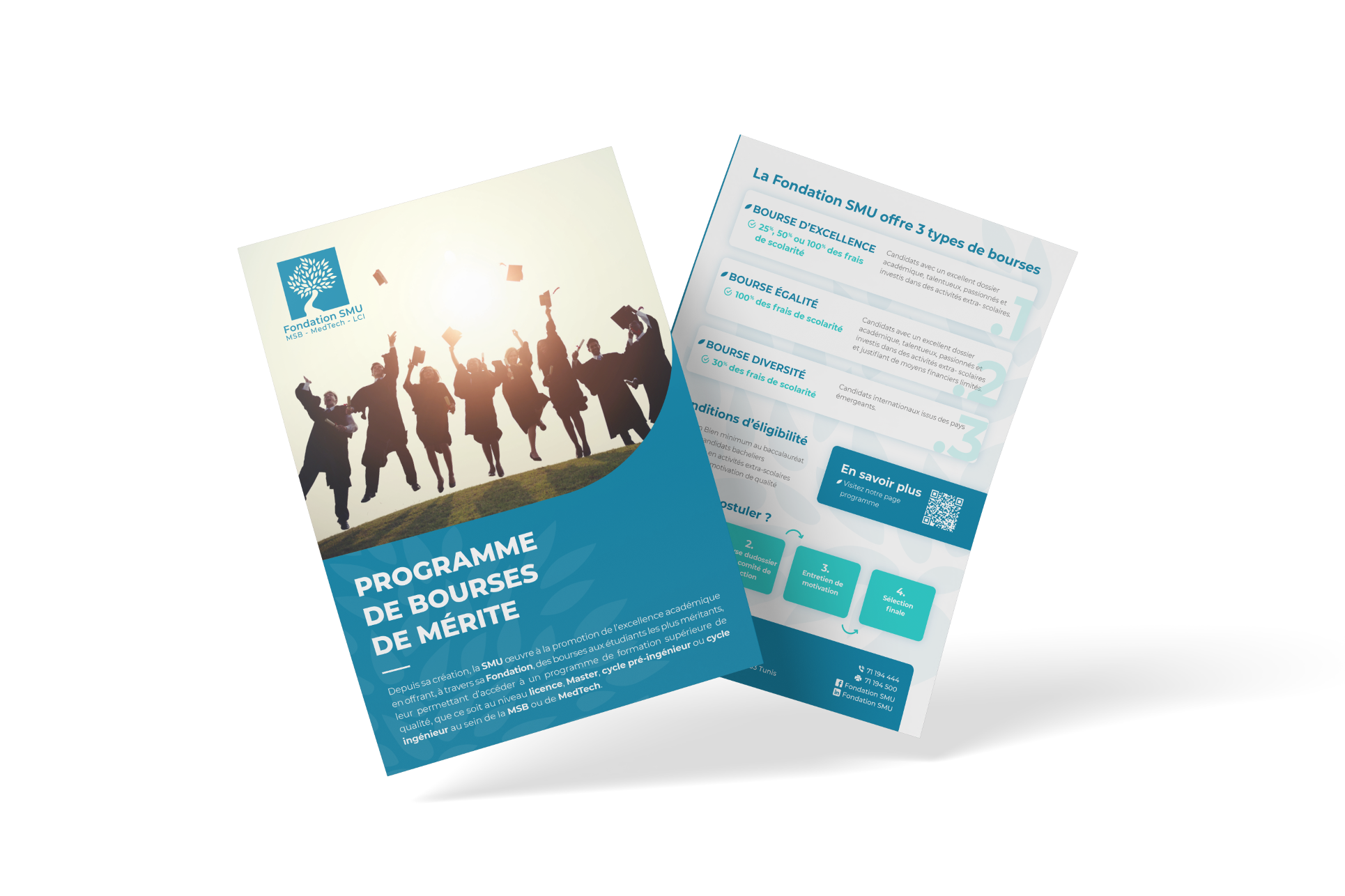 Merit
Scholarships

to study at

MSB

&

MedTech

Since its inception, SMU has been promoting academic excellence by granting scholarships to its brightest students. Today, the SMU Foundation, created as a non-profit organization, perpetuates this tradition with three scholarship opportunities for outstanding students, allowing them to pursue quality education in two of the best universities in Tunisia:

MSB - Mediterranean School of Business (License & Master)

MedTech - Mediterranean Institute of Technology (Engineering).

Copyright © 2022 - South Mediterranean University. Designed and Developed by TNEWECH'COM

l